Gift: Ham holder & ham carving knife
With all in-bone hams and shoulders, IberGour gives you a ham holder and a ham carving knife.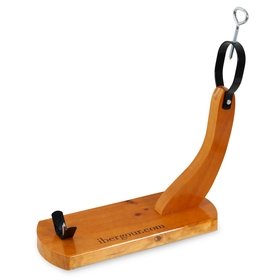 Ham holder

For cutting hams and shoulders
Easy disassembling and reassembling
Stainless steel anchoring pieces
Rigid wood
Weight: 1.4 kg
Platform Size: 40 x 17 cm.
Height: 41 cm.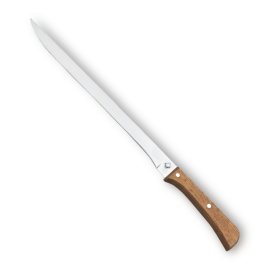 Ham carving knife

Stainless steel blade
Wooden handle
Blade length: 25 cm.
The holder ships disassembled in a small cardboard carton. All needed tools are included.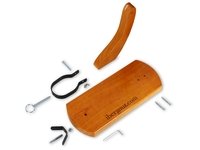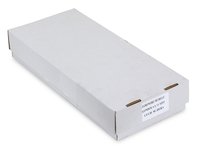 How to assemble IberGour's ham stand (demo video):
Alternative gift
If you already have your ham holder and carving knife you can opt for this alternative gift for every ham or shoulder that you order: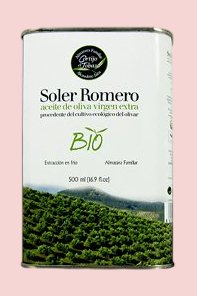 Alternative gift: 1 can
Maximum Acidity

0.15º
Colour

Yellowy-green
Format

500 ml can
Production

This oil is extracted from organic picual olives, with no additives or preservatives. Grown, produced and bottled in the family state (Cortijo el Tobazo).

In less than 3 hours the olives are picked, selected, washed with water and pressed. The oil is stored in stainless steel containers until it is bottled on the premises. This process ensures that the oil has a low acidity and fully maintains its' aroma, flavour and nutritional properties.

The oil is pressed without any chemical treatment. Nor is it heated during the process, a procedure which increases the yield but considerably reduces the quality of the product.

This is an organic product certified as such by SC CAAE according to the standards of USDA-ORGANIC which guarantee that there are no traces of pesticides or any other harmful substances. Organic farming doesn't allow the use of chemical fertilizers and pesticides, plant growth regulators, or genetically modified organisms.
Ingredients

Extra virgin picual olive oil
Nutritional details

Calories: 120
Fats: 14 g (of which 2 g are saturated)
Rich in olefin acid, polyphenols and vitamins A, D, K and E.

(approximate values for a 15 ml serving)
Storage

Best kept in a cool dark place.
Expiry

It will keep for a minimum of 6 months from delivery.
Taste note

This is a low acidity aromatic olive oil. It has a delicate, fruity taste (green olives, tomato, artichoke, almonds and apple) with a hint of green olive leaves, in excellent balance with pleasant light bitterness and peppery.
Recommended Use

It is ideal for dressing all types of salads (two tablespoons per person), and for grilled or steamed white meat and fish.

Vegetables should be sautéed at a high temperature when using this oil to retain their succulence.
Producer

Alcanova S.L. (Cortijo el Tobazo, Alcaudete, Jaén)
Prizes

Ranked World's #9 in Der Feinschmecker Olio Award 2015, Silver Medal in AOVE (EVOO) RM Deleite and Salud Guide 2015, Silver Medal in EcoTrama 2013 International Competition, listed as one of the best Spanish EVOO in the Repsol Guide.
Alternative gift
If you already have your ham holder and carving knife you can opt for this alternative gift for every ham or shoulder that you order: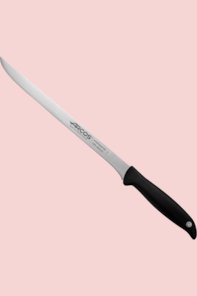 Alternative gift: 1 knife
Description
Arcos Hermanos (Albacete) directions on how to use this knife

Wash knives immediately after using
Avoid scrubbing with very abrasive scourers
Do not leave knives in water for more than 15 minutes
Dry with a soft cloth immediately after washing
Do not leave knives in the dishwasher after washing
Never use bleach, soda or chlorine detergents as they may cause rusting
Treat the blade with care and avoid striking it against a hard surface
Sharpen knives periodically with an appropriate sharpener
Be careful with the blade tip; avoid dropping the knife and do not use it as a screwdriver
Alternative gift
If you already have a holder and knife, with each jamon or paleta (shoulder) that you buy you can choose as a gift a coupon for €10 off your next purchase.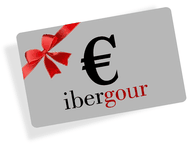 As soon as we have delivered your order, we will automatically send you by email a coupon for €10 off that you can redeem toward your next purchase.
Valid for 1 year (until March 24, 2024). If you are not going to use it, you can give it to a friend.